Photo by Bailey Anderson
Below are some highlights of my current work (including a show this weekend). I'm always available to connect with you about my services: it's my passion to provide jazz, rhythm-driven and vernacularly-inspired dance experiences!
With Gratitude,
Erinn 🙂

Circus McGurkus
When: THIS WEEKEND!
Where: Steppingstone Theater, St. Paul MN
Watch the short video below for the dates and times of this stage adaptation of Dr. Seuss' "If I Ran The Circus!" Choreography by yours truly and the excellent aerial artists of Stomping Ground Studio!
Performing as Nerdette with the Saint Paul Saints Entertainment Team!
When: Home opener is 

tomorrow

 at 

7:05pm

! Games run through the summer.
Where: 
The St. Paul Saint's CHS Field, 

St. Paul, MN
The Nerd and Nerdette (that's me!) are back at it again this summer, making you laugh (or at least trying very hard to!) with their goofy antics, awkward jokes and general lovable awkwardness. Join them for some baseball, beer and good times!
Dancer Audition for Rhythmically Speaking 2016
When: Sunday, May 29th, 1-3pm
Where: The Illusion Theater @ The Cowles Center, Minneapolis MN
Bring: A resume and headshot

Photo by Jim Cameron
Looking to get your rhythm on, Minnesota dancer-types? Come out to Rhythmically Speaking's audition for dancers: 2016 choreographer Rae Charles and I are both looking for folks for their work in this year's RS annual production, running August 18-20 at the Southern Theater! Contact me with questions!
TEACHING:
Friday

 Morning Jazz Class
Where: Zenon Dance Company and School
When: Fridays 

June 6 – August 28

, 

9:30-11:00am
Wanna get grooving? Come out to this all-are-welcome class I am co-teaching with the illustrious Karla Grotting. Join us to train in groovy, earth-bound and music-driven approaches to jazz dance!
SCHOLARSHIP:
I'm fortunate to be connecting with jazz and vernacular dance scholars through involvement with three conferences this summer:
Jazz Dance Teaching Symposium (June 13-15)
Southern Methodist University Dance Department, Dallas TX
Leading a discussion on positioning the contemporary relevance of jazz dance
Jazz Dance: Roots and Branches Conference (June 31 – August 3)
National Dance Education Organization/ Salve Regina University, Newport RI
Presenting article recently published by the Journal of Dance Education
American Vernacular Dance Week (August 7-12)
The Augusta Heritage Center at Davis and Elkins College, Elkins WV
Serving as a "Staff Dancer"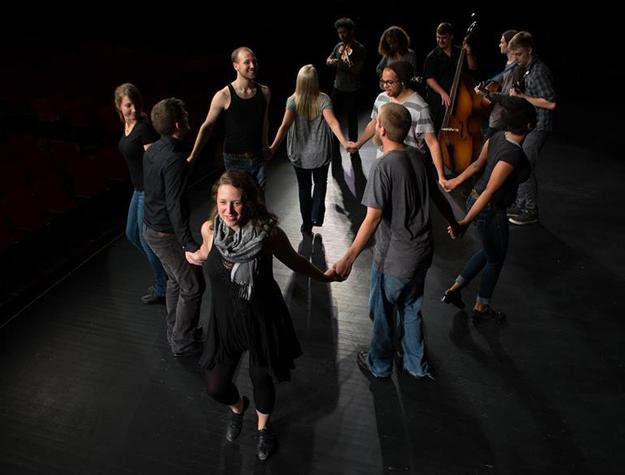 For More:
erinnliebhard.com


PARTING INSPIRATION: Prince + Miles Davis
As a Minnesotan, this time after the passing of late, great artist Prince has been one of both sadness and inspiration. He left us too soon, but the wake from his creative waves will be felt for many generations to come. As of late, I have been very inspired by the unearthing of a multitude of Prince material, including an incredible Prince and Miles Davis collaboration titled "Can I Play With U." Hats off to the connective power of funk and groove, and enjoy!